甘酒
2015.03.20 │ ブログ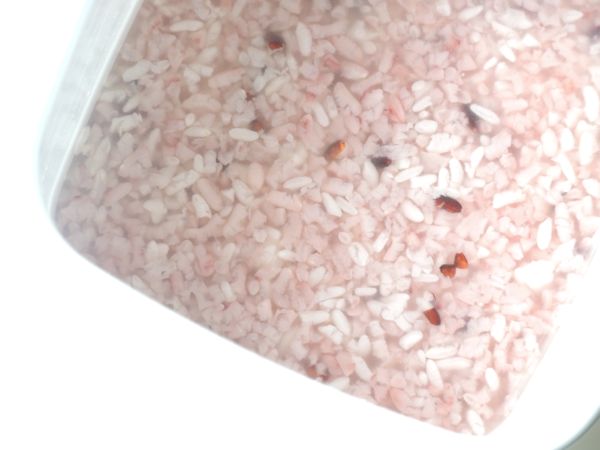 〜甘酒の作り方〜
米1合に対して、800ccのお水でおかゆを炊いて、60℃以下まで冷ます。
米麹100〜200gを入れて混ぜる。(たくさん入れた方が甘くなる)
55〜60℃で8時間保温すればできあがり。
これで、ちょうどこの1,2リットルの保存容器にいっぱいできる。
お米は餅米を使うとより甘くなるけど、普通のうるち米でもかまわない。
写真の甘酒は、たまたま黒米を少し入れたので、ピンク色。
私はたいてい10日〜2週間で使い切るので、加熱せずこのまま冷蔵保存する。
(それ以上もたせたい場合は冷凍が無難です)
生きた甘酒を毎日とると胃腸の調子が変わるのがよくわかる。
麹のおかげでうまれる米のやさしい甘みは、
おいしい上に、からだや食材へのはたらきかけがすごい。
漬けておくと肉や魚はすごくやわらかくなる。
便秘、肌荒れ、胃弱、夏バテ、アレルギーなど、
いろいろな症状への効果が報告されているけど、
実際、私も元気のもとだなあと思っている。
「甘酒」は酒と言われているけどアルコールは入っていないから、
赤ちゃんやお年寄り、体力の落ちた人、母乳の出が悪い人にもおすすめ。
最近は添加物の入っていない上質なものが売られているので、
気楽に買うこともできるし、
手作りすると、加熱しないですむので、もっといい。
///////////////////////////////////////////////////
AMAZAKE
~How to make Amazake~
1,First, make rice porridge.
2,Put water(800ml) and washed Japanese rice(150g) in a heavy bottomed pot, adnd leave it for a while.
Cover the pot and put it on medium-high heat. When it begins to simmer, lower the burner to low and cook the rice about 30 minutes. Stop the heat and let it steam for about 10 minutes. After that, stir the porridge and let it cool to 60 degrees(=140F).
3, Add Koji(malted rice,100~200g.the more is the sweeter) into this porridge and stir to spread.
4, Keep it warm in 55~60 degrees(=131~140F) for 8 hours.
This will fill a 1.2 liter size container.
I usually use this up within 10days~2weeks, so I don't sterilize and keep it in the fridge.
If you want to keep more, it should be stored in a freezer.
The color of the photo is pink because I happened to put a little bit of black ancient glutinous rice when I made porridge.
If you make with Japanese mochi rice(glutinous rice), that'll be much sweeter, but feel free to use Japanese uruchi rice(non glutinous rice).
If you take in alive Amazake everyday, you'll aware that the condition of the gastrointestinal is getting better.
In addition that the sweetness come from fermentation of malted rice is so mild and tasty, its effect to health and ingredient is superb.
If you marinade meat or fish in Amazake , it'll be really tender.
The word Amazake when written in Kanji is made up of two characters: 甘(ama) and 酒(sake). 甘(ama) means sweet, and 酒(sake) refers to liquor. But Amazake is not an alcoholic drink, so I recommend to use for babies, old persons, and persons whose physical strength has declined due to illness, and those who does't have enough mother's milk(it stimulates secretion).
It is reported that Amzake is effective in constipation, unhealthy skin, dyspepsia, summer heat fatigue, allergy, and some other symptoms, and actually, I can feel that it helps my wellness.
These days, good quality Amazake is sold at a market, so you can easily buy that.
And if you try making it yourself, you can get more effectiveness of Koji Aspergillus oryzae since you need not heat it for sterilization.
posted by Misato